A WIN/WIN INVESTMENT!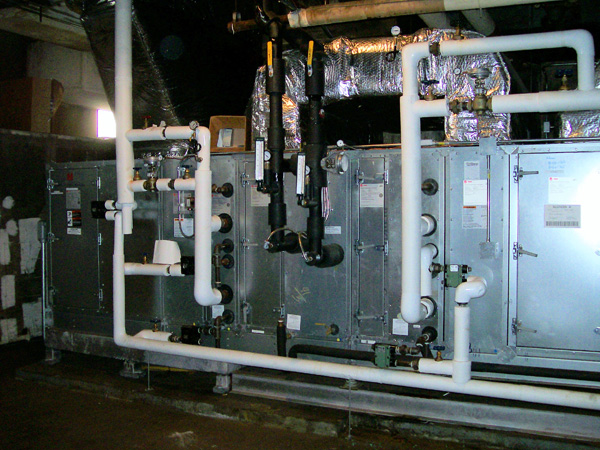 During the past several years we have been replacing air handlers for classrooms, labs and office space conditioning throughout many properties in the Boston area. A surprising amount of systems are operating with air handlers over 40 years old.
With the current rebates available through NStar, upgrading air handler equipment is more attractive than ever before.
Installing new equipment with high efficiency motors, frequency drives and new ATC controls provides tremendous savings in energy and your payback on the investment can be less than 5 years.
The best by-product of this equipment upgrade is improved internal air quality.
These new air handlers provide an optimum indoor climate while saving energy and operating costs.
If you would like further information please give our office a call to set up an appointment with one of our sales staff to provide a proposal for equipment upgrade.
HVAC RETRO COMMISSIONING
A great supplement to Air Handler Upgrades or just an excellent opportunity to fine tune any system installed over the past several years.
Many HVAC systems are designed, installed and commissioned to provide standard operation schedules and ventilation rates per code. During normal operation and building tenant changes the system becomes, as we say, out of sync. Various manual changes and equipment adjustments are completed on an informal basis. Basically nothing is ever documented or fully troubleshot to find the cause of the tenant comfort complaint, so quick adjustments are made.
Retro commissioning provides a direction to bring the system back up to proper operational standards and comfort.
Let us provide you a free quote for this service.
SPRING ANNUAL GOLF TOURNAMENT
Our spring annual golf tournament is fast approaching! The event will be held the Friday of memorial day weekend at Campbell's Scottish Highlands Golf Course in Salem, NH. Contact us for more information., and get in early because spots are filling up quick this year! All are welcome to join.